Silicone Pancake Molds
Regular price
$17.99
Save

$-17.99
/
---
Silicone Pancake Molds
Making the perfect pancake is never easy & just too much mess if you don't have the proper utensils to make them. With our Silicone Pancake Molds, cooking has never been this simple! The perfect solution for all foodie and pancake lovers out there!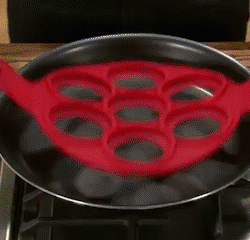 The pancake maker comes with 7 compartments for you to make 7 pancakes at the same time. Fill up the holes with batter & cook them until it turns brown. Just flip it after that and your pancakes are ready to be served!
TIME-SAVING & EASY TO USE
No more scraping debris off metal rings; Make pancakes quickly and easily; Waggle the handle to see when ready; Round pro-pancakes easy to get off the pan; Handle flips down for easy storage; Get awesome eggs, pancakes, and patties every time.
More Molds, More Choice - Each Order Comes with 8 Egg Ring Shapes! This makes them great for children who are very picky with the shape of their foods. Especially when you have several children, this 8 piece set is a must-have egg kitchen gadget!
Made from a non-toxic, non-stick silicone material that guarantees you to make the perfect shaped pancakes every time! (Works great for eggs, omelets, hash browns & a lot more!)
Cleaning is made easy with our pancake maker because they are dishwasher, microwave & oven safe. (Heat Resistant up to 450°!)
The pancake maker fits on any 10" size pan and above. It also comes with an easy-grip for you to hold & flip your pancake over easily.
The upgraded version of the pancake mold is worth your try again, and prepare delicious pancakes for your family every morning. It is an excellent gift for your family or children. 
How to use:
Put oil on the mold and pan with a brush before using it.
Don't use a curved pan, the mold must lay FLAT in the pan, preheated pan, then press mold with a spatula to form a seal to avoid seeping.
Lay batter with half of the height, not too much, it will expand over.
Put a lid on the pan, if you want to speed up cooking.
Before flipping it, make sure the batter is dry and not runny. Please grab 2 extended ears moving left and right, let the whole separate from the pan, then flip.
Specification:
Material: Food grade silicone
Color: Red, Pink, Purple
Weight: 150g
Size: 39.5 * 23.5cm
SHOP WITH CONFIDENCE